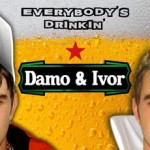 Dublin's most famous Northside and Southside ambassadors Damo & Ivor have signed an exclusive deal to bring their unique local sound to mobile with an exclusive mobile distribution deal with Everneo.
Hot on the heels of their deal with Limerick's The Rubberbandits, Irish VAS specialist zamano is distributing a suite of exclusive mobile content from the massive internet sensation – Everybody's Drinkin by Damo & Ivor released on Skanger Records.
"When we saw how quickly the youtube video for this track spread around the office and had us all in stitches laughing we knew we had to contact the guys to put a deal in place. We all know a Damo or an Ivor (or both) and the local appeal of this made it impossible not to get signed up!", says Simon Bell, Product Manager at Everneo.
"Mobile is the best way for us to reach our fans, so we are delighted to be working with an experienced mobile distribution partner like Everneo" – Skanger Records